Prof. Dr. Mohammad Masrurul Mowla
---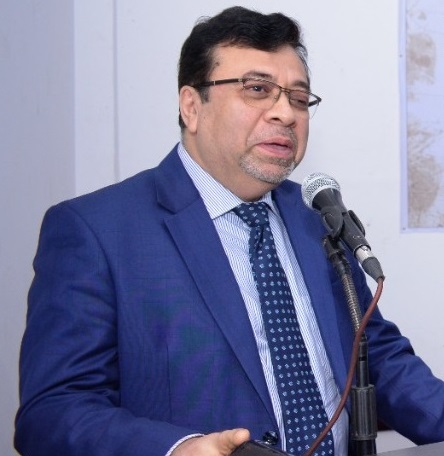 Prof. Dr. Mohammad Masrurul Mowla
Pro Vice-Chancellor
International Islamic University Chittagong
Phone: +88-03042-51154-61 Extn. 306, IP: +88-09613230511
Mobile: +88-01554-329168 Email: mmmiiuc@gmail.com Website: :iiuc.ac.bd
Academic Qualification, Teaching, Research and Publication
A. Educational Qualification
| Institution/Board | Degree | Subject | Year | Class (Place) |
| --- | --- | --- | --- | --- |
| University of Hull, United Kingdom | Ph.D. | Community Wellbeing and Sustainable Tourism Development | 2017 | Awarded |
| University of Hull, United Kingdom | Postgraduate Certificate in Research Training | Marketing and Business Strategy | 2017 | successfully completed |
| University of Hull, United Kingdom | University Level Teaching Certificate | Marketing and Business Strategy | 2015 | |
| University of Hull, United Kingdom | MSc | Advertising and Marketing Communication | 2011 | |
| International Islamic University Chittagong, Bangladesh | MBA | Marketing | 2004 | |
| University of Chittagong, Bangladesh | M.Sc. | Mathematics | 1991 | |
| University of Chittagong, Bangladesh | B.Sc. (Hons) | Mathematics | 1990 | |
RESEARCH INTERESTS
International Marketing, Research Methods, Marketing Research and, Strategic Marketing and Planning
TEACHING INTERESTS 1. Introduction to Business 2. Principles of Management 3. Human Resource Management 4. Marketing Management 5. Principles of Marketing 6. International Business 7. International Marketing 8. Promotional Management 9. Integrated Marketing Communications 10. Consumer Behavior 11. Tourism and Hospitality management 12. Tourism and Event Management
PUBLICATIONS AS LECTURER 1. Mowla, M.M. (2007), Sustainable Competitive Advantages (SCA) of Mobile Communication Industries in Bangladesh: Analysing Key Success Factors, IIUC Business Review, Vol. 2, pp 81-96 2. Mowla, M.M., (2007),Performance Measurement of Distribution Management system: A case Study on Unilever (BD) Ltd, IIUC Business Review, Vol. 2, pp63-80
PUBLICATION AS ASSISTANT PROFESSOR 3. Mowla, M.M. (2008), International Strategy and Dynamics of Capitalism: A Study on Volkswagen, Journal of Business Administration, University of Dhaka 4. Mowla, M.M. (2011), Human Resource Management from Islamic Perspective, Bangladesh Journal of Islamic Thought, Vol.9, pp 19-35 5. Mowla, M.M.(2012), An overview of strategic alliance: Competitive Advantages in Alliance Constellations, Advances in Management, Vol. 5(12), pp1-10 6. Mowla, M.M. (2011), Key Success Factors Creating Values in Marketing: A Study on Instant-Food-Products (IFP's) Marketing in Bangladesh, Indonesians Management and Accounting Research, Vol. 10, No. 1, pp 19-39 7. Mowla, M.M. (2013), Organizational Culture: Features and Framework from Islamic Perspective, Humanomics, Vol. 29(3), pp 202-219
PUBLICATION AS ASSOCIATE PROFESSOR 8. Mowla, M.M., (2017), Towards Achieving the Success in Communication Campaign: A Study on Marks and Spence, International Journal of Business and Technopreneurship, School of Business Innovation and Technopreneurship of Universiti Malaysia Perlis (UniMAP), Vol. 9, No. 3, pp 343-354 9. Mowla, M.M., (2014), Entry Mode Selection, Location Choice and the Sequence of Internationalization: A Case Study on Ranbaxy Laboratories Ltd., Asian Social Science, Vol. 10(6), pp 145-154 10. Mowla, M.M., (2013), Dynamics of Cross Cultural Management: A Critical Review, Abasyn Journal of Social Sciences, Vol. 6(2), pp 1-15 11. Mowla, M.M. (2013), Product Placement: A Critical Review Based on Ethical Theories, Indian Journal of Marketing, V. 43(7), pp 21-29 12. Mowla, M.M. (2013), Quality of Education in Bangladesh: A Survey on Private Business Schools, Information and Knowledge Management, Vol. 3, No. 5, pp 117-126 13. Mowla, M.M. (2013), Impact of television commercials on children's attitudes in Bangladesh: An empirical study, Journal of Academic Research in Economics (JARE), Vol. (2), pp 290-306 14. Mowla, M.M. (2019), Impact of Service Quality on Customer Satisfaction in Bangladesh Tourism Industry: An Empirical Study, Advances in Management, Vol. 12(1), pp 136-141 15. Mowla, M.M. (2019), Green Banking Practices in Bangladesh: A Critical Investigation, International Journal of Economics and Finance, Vol. 11(3), pp 58- 68 16. Mowla, M.M.(2018), Identifying the Presence of Gharar in the Buying and Selling Mechanism Under the Different Kinds of Market Structure, Thoughts on Economics, Vol. 28(3), pp 25-36 17. Mowla, M.M. (2018), The Causality Between Stock Market Development and Economic Growth: Econometric Evidence from Bangladesh, International Journal of Economics and Finance, Vol. 10(5), pp 212-220 18. Mowla, M.M.(2019), Private Investment Demand Function in Bangladesh: An ARDL Approach, Asian Business Review, Vol. 9, No. 1, https://doi.org/10.18034/abr.v9i1. 248, Asian Business Consortium 19. Mowla, M.M. (2018), Use of Crowd-funding for Developing Social Enterprise: An Islamic Approach, International Journal of Business and Management, Vol. 13(6), pp 156-164 20. Mowla, M.M. (2019), Impact of Brand Equity on Consumer's Purchase Intension: A Study on Some Furniture companies in Bangladesh, International Journal of Advances in Management and Economics, Vol. 8(2), pp 11-16 21. Mowla, M.M., (2019), Investigating the Relationship between Service Quality, Customer Satisfaction and Customer Loyalty in Hotel Industry: Bangladesh Perspective, Global Journal of Management and Business Research - Administration and Management, Vol. 19(1), pp 28-35 22. Mowla, M.M. (2019), Measuring the Factors Affecting Employees Job satisfaction in Readymade Garments Industry: Bangladesh Perspective, International Journal of Advances in Management and Economics, Vol. 8(1), pp 146-153 23. Mowla, M.M. (2019), Consumers Perception on Various Types of Advertising Media: The Case of Bangladesh, Global Journal of Management and Business E-Marketing, Vol. 19(1), pp 32-41 24. Mowla, M.M. (2019), How Local Hotels Make Use of Marketing Techniques to Recover Themselves During Demand Fluctuations: A Study Cox'sbazar City, International Journal of Business and Management Invention, Vol. 8(3), pp 38-43 25. Mowla, M.M. (2019), Investigating the Compliance of Tourism principles with the Components Sustainable Tourism: Bangladesh Perspective, Advances in Management, Vol. 12(1), pp 3-8 26. Mowla, M.M. (2019), Attitudes of Tourists towards the Importance of Sustainable Initiatives in the Tourist Destination-A Study on Coxsbazar, Global Journal of Management and Business Research-Interdisciplinary, Vol. 19(1), pp 32- 39 27. Mowla, M.M. (2019), E-Tourism: An Innovative and Sustainable Approach to Appreciate the Economic Growth in Bangladesh, International Journal of Advances in Management and Economics, Vol. 8(2), pp 1-10 28. Mowla, M.M. (2020), Spiritual capital (Adhyatmik Shompatti) – a key driver of community well-being and sustainable tourism in Cox's Bazar, Bangladesh, Journal of Sustainable Tourism Routledge-Taylor and Francis Group
PUBLISHED CONFERENCE PAPERS AND PROCEEDINGS AS ASSOCIATE PROFESSOR 1. Community Wellbeing is a Motivating Factor in Achieving Sustainable Tourism Development, Presented in an International Conference on "Inclusive Tourism Development" held in Los Angeles, California, USA from 28th March to 2nd April 2016 which was organized by American Geographers Association (AAG) 2. Product Placement: A Critical Review Based on Ethical Theories, Presented in MASAUM International Conference on Management Science, December 29-30, 2012, Dubai, United Arab Emirates. 3. The art of Managing Self to Balance Digital Working environment: Learning from Bangladeshi Epics, Presented in the International Conference on "Riding the Digital Wave-The New Leadership" (World Business's Economy Congress), 15-17 February 2019, Jointly organized by World Researchers Association (WRA) and SAGE University, Indore, M. P.
TEACHING EXPERIENCE 1. Professor of Marketing, IIUC : March 31, 2019 till date 2. Associate Professor of Marketing, IIUC : March 10, 2013 to March 30, 2019 3. Assistant Professor of Marketing, IIUC : August 10, 2008 to March 09, 2013 4. Lecturer of Marketing, IIUC : March 25, 2004 to August 09, 2008 During three years of my PhD study, I worked as a guest lecturer at Hull University for four different courses: International Marketing, Research Methods, Marketing Research and, Strategic Marketing and Planning in different semesters. During my teaching tenure, the majority of the students were from different nationalities and cultural background, therefore it required special support and comfortable learning environment and I usually used electronic sources like YouTube and daily motion videos related to my lecture topics in order to give my students variety of understanding in subject topics with real life examples. My goal was to ensure and maintain the quality of learning within each class, and every student was allowed to ask questions either in the class or drop-in sessions and can knock me on my consultancy hours. Moreover, my teaching focus was mainly depending on examples, which were easy to grasp by students in terms of understanding and most of the students gave positive feedback on this particular strategy at the end of course.
CONFERENCES AND SEMINARS ATTENDED During my M.Sc. and PhD journey in UK, I attended numerous international and domestic Conferences and Seminars. Due to time limitation, I am not including those here. I will add those later if I will get time. Furthermore, I participated numerous Seminars, Conferences in different corners of the world. I attended a conference in San Francisco, California, USA in 2017. Apart from this, I visited France, Netherlands, Singapore, Thailand, India, Nepal and Indonesia for attending different Seminars and Conferences. I published more than 27 journal papers in different research journals at home and abroad.
SERVICE AND PROFESSIONAL DEVELOPMENT 1. Pro Vice-Chancellor, IIUC : From March 28, 2021 till date 2. Syndicate Member, IIUC : From April 2019 till date 3. Dean, Faculty of Business Administration, IIUC : From August 2020 till date 4. Chairman, Department of Business Administration, IIUC : August 2017 to July 2019 5. Coordinator of MBA and MBM programs, IIUC : From 2011 (almost 2 years) 6. Founder Chief Advisor of IIUC Business Club, IIUC : From 2005 (almost 1.5 years) 7. General Secretary, MBA Alumni Association of IIUC : From 2004 (almost 2 years) 8. Portfolio Manager (Ophthalmic Products), Novartis Bangladesh Limited (A Swiss Company) : From 2003 (3 years plus) 9. Chairman: Planning and Development Committee of DBA, IIUC 10. Chairman: Examination Committee in different semester for BBA and MBA programs, IIUC 11. Chairman: MBA and MBM Coordination Committee, IIUC 12. Convener: BBA Internship/Dissertation Committee, IIUC 13. Convener: MBA and MBM Internship/Dissertation Committee, IIUC 14. Treasurer: Islamic Society of Hull University, UK
LANGUAGE PROFICIENCY ▪ Bengali (Native) ▪ English (Near to native level) ▪ Arabic (Read, Write) ▪ French (able to communicate)